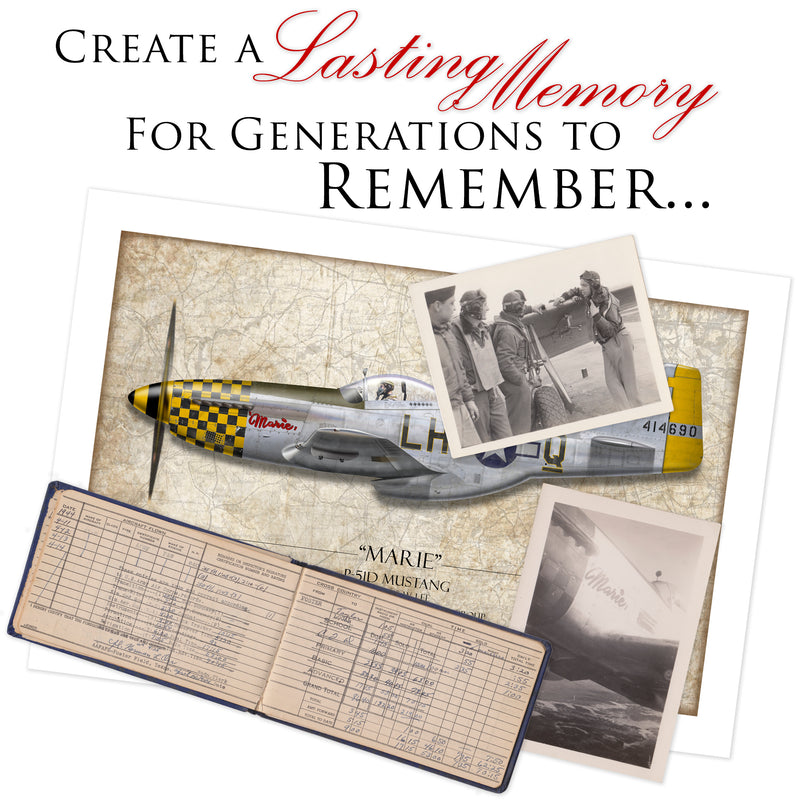 Custom Aviation Art Illustration (In Action or Profile)
---
In stock, ready to ship

Inventory on the way
Commission a Custom Aviation Illustration 
Ordering a custom illustration by Artist Craig Tinder commemorates a unique story of aviation history like no other! Commemorating your personal hero or favorite aviator provides a lasting legacy that can be enjoyed for generations to come. Each illustration is painstakingly researched and drawn to be technically accurate and visually appealing, while each print is crafted using only the highest archival materials and methods to ensure the print can be enjoyed for a lifetime. Each piece of artwork also includes collectibility appeal which can appreciate in value over time. 

Commissioning an illustration by Artist Craig Tinder is as easy as 1-2-3! Illustrations require just a few things to get started!

1) Provide Details - Send us a message with any details you require for the illustration: Aircraft type, name, crew members, links to photos and any available history or documents. In case there are missing gaps in the information, we have ways to find some more details and if needed, extrapolate certain missing details when necessary.

2) Design Fee - There is a one-time design fee of $550 USD that is required up-front to hold a spot in the queue. Additional rush fees may be required based upon timing requests. Please note, this one-time design fee DOES NOT include the price of the print(s). This fee only covers the design time to create the artwork.

3) Print Costs - Once the illustration is completed and the design fee is paid for in full, the illustration will be uploaded to AcesInAction.com where you can order any prints you'd like to purchase. Standard prices for the various prints are listed on the website and are dependent upon the style and options selected. Choose from Framed Canvas Art with Relics, Unframed Canvas Art, or Paper Prints.

Note about the time frame: Each illustration is custom drawn by hand using a digital process and can take 2-5 weeks to complete with another 2-4 weeks required to print and assemble the final deliverables. The complexity of the final print choice dictates the assembly speed - i.e. framed canvases with data plates and relics take longer to produce than a single paper print. We appreciate your patience while we work through the process together!

Opportunities for custom illustrations fill up rapidly - especially around the holidays. However, we will attempt to work with you to find an option that fits within your budget and timeline constraints.

Interested in a Personalized Hero Plaque? - Learn More Here!

--------------

Please note: Refunds are not allowed for this purchase. Once the illustration has been started, it requires completion and cannot be returned. All designs and illustrations are copyrighted material by the artist, Craig Tinder. Prints of the commission may be posted in the catalog of Aces In Action and be made for sale.